Nissan Windshield Repair and Replacement
Chip's Auto Glass technicians are triple-certified and can work on your Nissan.
Nissan has a reputation for reliability and performance. But even the most reliable vehicles are prone to windshield and auto glass damage. Chip's Auto Glass offers mobile and in‐shop options for professional Nissan windshield repair or replacement. A crack or chip is never convenient. We strive every day to make our windshield service as stress‐free as possible.
Schedule your mobile pickup online or call us at 1‐844‐844‐5277 for a quote.
Image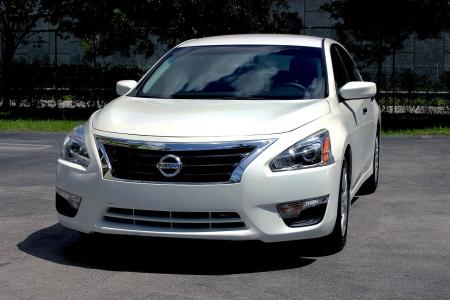 Windshield Repair and Replacement For Every Nissan Model
Our knowledgeable technicians are AGRSS‐certified and experienced in repairing and replacing Nissan auto glass. We service every Nissan model, including the Nissan Altima, Maxima, Murano, Sentra, and Rogue.
You and your Nissan will be back on the road soon after scheduling service with us (link to scheduling page). We are confident in our work and have the experience to back it up. We also offer ADAS Calibration following a windshield replacement for vehicles with advanced safety features like lane keep assist and collision monitoring.
When Can A Windshield Be Repaired vs. Replaced?
The size and location of your Nissan windshield damage determine whether your windshield can be repaired or will need complete replacement.
Size of the Damage
Rock chips smaller than the circumference of a quarter and cracks shorter than 3 inches can be repaired. If the damage to your windshield is larger than that, we will need to install a replacement windshield.
Location of the Damage
Damage located toward the edge of the glass is more likely to spread than if located in the center of the windshield. We typically replace Nissan windshields with perimeter damage for this reason. We can quickly repair the damage located near the windshield center if the damage is small enough.
Sometimes, the damage is located directly within the driver's line of sight. No matter the size, we will elect to replace the entire windshield if this is the case. Our windshield repair process leaves behind a minor distortion in the glass, which may impair driver visibility. We never seek to put the driver in harm's way due to our service.
Schedule Your Windshield Service With Chip's Auto Glass
Chip's Auto Glass offers mobile and in‐shop options to repair or replace your Nissan windshield. 
---
Which Service Option Do You Prefer?
Mobile (we'll come to you)
Drop off your vehicle
Wait in the store
Choose whichever option is most convenient for you.
---
Free online estimates and we handle your Insurance Claim
Click here or call 1‐844‐844‐5277 for a free estimate. We will work with your insurance provider and handle the claim process for you.