Cadillac Windshield Repair and Replacement
Chip's Auto Glass technicians are triple-certified and can work on your Cadillac.
Chip's Auto Glass wants to make the auto glass repair process as simple for you as possible. That is why we offer mobile and in-shop options for Cadillac windshield replacement and repair service. Whether it's more convenient for you to bring your Cadillac into any of of our partner, Tire Discounters shops, or have our technicians travel to your location for service, you'll be amazed at how efficient, and professional auto glass repairs are with Chip's Auto Glass.
Schedule your mobile pickup online or call us at 1-844-844-5277 for a quote.
Image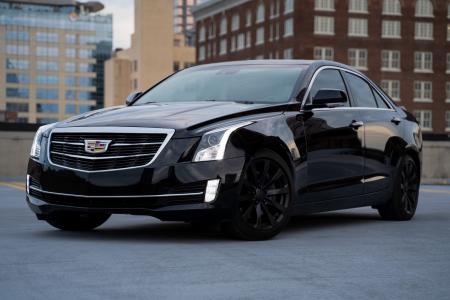 Cadillac Windshield Replacement and Repair Near You
Chip's Auto Glass provides windshield replacement and repair service for every Cadillac model, including the Escalade, XT4, XT5, XT6, CT4, and CT5. 
Chip's Auto Glass is family-owned and operated. Our glass technicians are triple certified through the Auto Glass Safety Council™, NWRD™ National Windshield Repair Division, and Dow®.
Click here to schedule service for your Cadillac's windshield. Following a windshield replacement, we can recalibrate your advanced safety systems if your vehicle has features like lane keep assist and driver drowsiness detection.
Image

When Can Your Cadillac's Windshield be Repaired vs. Replaced?
Two factors will decide whether your Cadillac windshield can be repaired or will need to be replaced.
Size of the Damage
Rock chips smaller than a quarter's circumference and cracks shorter than 3 inches can usually be repaired. If the damage to your windshield is more extensive, we will need to install a replacement windshield.
Location of the Damage
We will typically replace Cadillac windshields with perimeter damage, as it is more likely to spread across the glass. If the damage is located near the center of the windshield and small enough, we can quickly make the repair.
If the damage is located directly within the driver's line of sight, we will elect to replace the entire windshield, no matter the size of the damage. Our windshield repair process leaves behind a minor glass distortion that may impair driver visibility. We never seek to put the driver in harm's way due to our service.
Schedule Your Windshield Service with Chip's 

Auto Glass
Chip's Auto Glass offers mobile and in-shop options to service your Cadillac auto glass. 
Free Online Estimates and We Handle Your Insurance Claim
Call us at 1-844-844-5277 for a free service estimate. We will work with your insurance provider and handle the claim process for you.