Fleet National Accounts
Our relationships go coast to coast. We proudly work with the following vehicle management companies to make sure we provide your fleet with hassle-free service.
ARI - Automotive Resources International
Avis
BBL - Bud Behling Leasing
Donlen Fleet Management
Emkay Fleet Management
Element
Enterprise Fleet Management
Fleet Response
GE Fleet Services
GSA
Joseph Leasing
Leasing Associates
LeasePlan, USA
Merchants Leasing
Mike Albert Leasing
The Motorlease Corporation
Union Leasing
Voyager Fleet Systems
WEX, Inc.
Wheels Inc.
Benefits of Servicing your Fleet at Tire Discounters or Chip's Auto Glass
"Priority Service" for all of your vehicles
Mobile service for auto glass and ADAS
Special Tire Discounters and Chip's Auto Glass fleet services pricing
Convenient monthly billing (with credit approval)
24/7 billing and payment access
Outstanding customer service
Image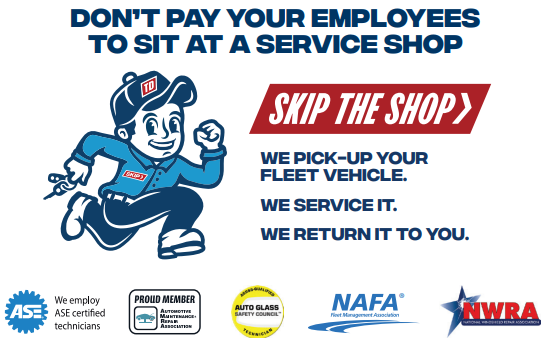 Skip the Shop is a limited-time offering.  Charges may apply.  See store for details.